Shopping like a local
2-3 DAYS
360 total points
Seeing the beaches, visiting the tourist information center, buying the typical junk… all of this sounds pretty boring, no? If you are like me, you want to get into the city more, explore the real aspects of the city and see incredibly strong cultural points of reference. And of course, it is no big deal, if you happen to buy a few things to bring home from your trip. We won't tell anyone! In this challenge we will be exploring the various markets and shopping centers across the city. You will experience markets that the locals use, temporal markets that pop up from time to time and markets that are from a distant past. These experiences will shape how you look at Barcelona and get you off of the beaten path of Las Ramblas and all of the touristy shops and merchants there. Forget their wares- and find your own hidden treasures in this city!
Teatre Nacional de Cataluña
50 points
We know what you are going to say, the first market isn't even a market…. And of course, I could always brush up on my Catalan, but I am sure that Teatre is not Catalan for market… The Teatre Nacional de Catalunya hosts some of the best outdoor events in the city. Tucked away outside of the center, the teatre offers little festivals close to every month. Inside there is a market for local shops and merchants. On the lawn of the teatre there are all sorts of street food and food trucks, as well as a healthy amount of wine and beer. There is typically music playing, but the environment isn't a huge kegger and is more relaxed. From everything to local cheese to artesian style beers. We really recommend that you come hungry for this one! Check out their website for their full website and to learn more!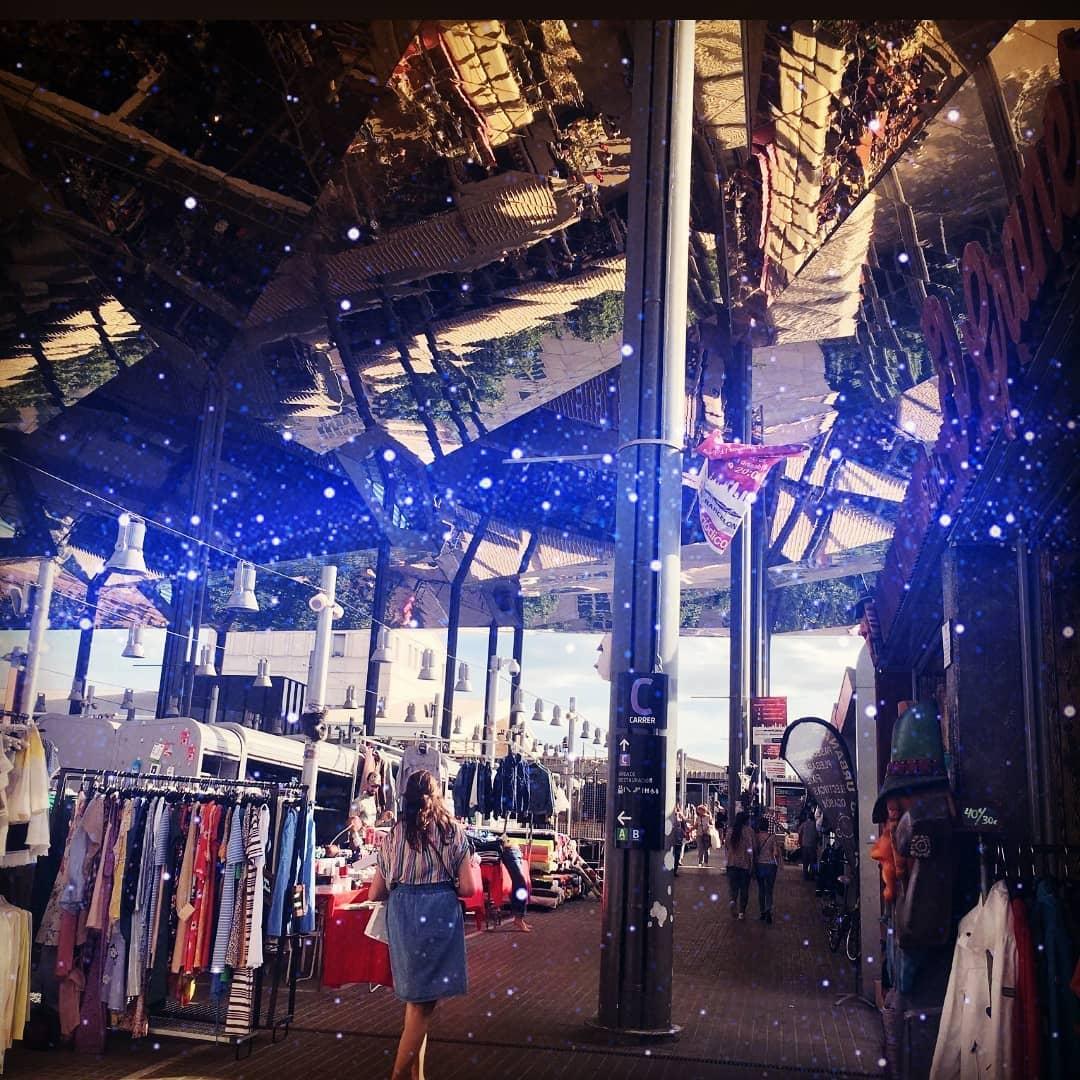 Mercat Fira de Bellcaire Els Encants
40 points
This market is much more what some people might expect whenever they hear the phrase "local market". The Mercat Fira de Bellcaire Els Encants is a local market that happens during the week where anyone can purchase cheap items or second hand items at a fraction of the price. If you are like me and you are always trying to find a good deal at a flea market- then this could be your dream experience. There are dedicated stalls surrounding the outside of the market and the center is filled for people selling items on the floor or on mats. It is best to go in the morning. The building itself is a fascinating piece of artwork and I would recommend going if not, only for this. The entire building is in a general triangle shape, the ceiling and roof are not even, and it is covered with a mirrored surface.
El Born Centre de Cultura i Memòria
50 points
Unfortunately for you, El Born Centre de Cultura i Memòria is not the dream market you are looking for. This building was previously the central market for this area of the city, but the building has been refurbished to be a cultural center for the neighborhood. This old market is a blast to the past however, as you will notice immediately upon entering. They have uncovered under the old market old Roman era ruins! Therefore, there are information about the ruins and what the area would have looked like during the Roman period of Barcelona throughout the market. This portion of the exhibit is free, although there is usually a rotating exhibit that the market offers that is paid only. However, El Born is a very cool neighborhood in the city and is known to have some of the best and most unique shops. I would recommend spending some time there and shopping regardless!
Les Galeries Maldà
40 points
In the Gothic quarter, there is a market that you could very well miss if you look past it. That is because it is a walkthrough market that snakes around the neighborhood. As you will find out, the entrance is covered in plants, making sure that it is camouflaged. The pathway is a great way to get out of the hot summer sun while still being active and enjoying the city. By far not the oldest market in the city, a lot of the shops are based on anime, tv series or other popular culture items. There is even a movie theater that connects inside of the Galeries. This experience can really be a hidden gem for all of those nerds and geeks out there. But it can also be the perfect escape from all of the crowds! Take a few minutes, escape the sun and experience Barcelona nerd stores.
Glòries
40 points
Glòries is a bit away from the center, but if you are looking to find a real shopping center that the Catalans will actually go to- look no further. But what I love about this area and the mall is that it is underground, but you feel like you are outside the entire time. There is plenty of natural light that comes in from the surface and there the ceramic tiling that makes up the main design gives you the feeling that you are at an outdoor market. This particular experience is designed to give you a sense of deeper understanding to how a mall that is built for the people of Barcelona is functioning and what they look for in their shopping centers. The shops have the latest styles from around Europe and it has a unique feeling to any American style mall that I have ever been in.