Experience Almada
1- DAYS
630 total points
Almada is one of Lisbon's hidden secrets and, it's a refreshing break away from the touristic city center of Lisbon. There's a lot of great activities in Almada, and to fully enjoy your visit to this delightful part of Portugal, we have broken the challenge up into 2 days. The first day we are going to explore some of the landmarks and sights worth seeing and visiting in Almada, and the second day we are going to take it easy on some of Almada's most beautiful beaches. For travelers planning on taking public transportation, we will keep you in mind and give you all the info on the routs you need to take to get to your experiences. The parish of Almada lies in the shadow of Lisbon, and for that reason alone makes it a great destination to visit. Here, the Portuguese culture can be experienced in full authenticity. Even though a lot of the residents does not speak English, they will accommodate you through sign language and gestures and make you feel super welcome.
Sanctuary of Cristo Rei
70 points
When visiting Lisbon, you have to go and visit its well-known landmark, Cristo Rei. This magnificent statue is one of the first and most predominant structures you will see throughout your visit to Lisbon. Catch the early ferryboat from Cais do Sodre to Cacilhas. This is the most commonly visited touristic area of Almada. You have a few options when buying tickets. You can either buy the "Bilhete simples" (Single Ticket) for 1,30€, or a "Bilhete diário" (Day Ticket). A day ticket will cost you round about 9,50€, and you can travel for 24 hours on all of the following public transportation: - Carris - Lisbon's buses, trams, and funiculars - Metro - subway system - Transtejo - Cais do Sodre to Cacilhas ferry boat. As you step out of the ferryboat terminal in Almada, you will be met by the Metro train station in front of you and to your left the busses. Catch the TST 101 to Cristo Rei. Cristo Rei's history is fascinating, and it is worth every cent to visit the top of the monument. A brief elevator ride takes you 82m up to the trapezoidal pedestal of the Cristo Rei statue, where the uninterrupted views over Lisbon and Almada will leave you in awe. When standing at the base of the structure, you are overtaken by the pure size of it. Cristo Rei was inspired by Cristo Redentor, the same monument allocated in Brazil, after a visit from Cardinal Patriarch of Lisbon in 1934 to Rio de Janeiro. It took the Portuguese a full 10 years to complete the monument and was inaugurated on the 17 May 1959.
Serenity in Casa de Cerca
70 points
After Cristo Rei, we head over to Casa de Cerca. The building dates back as far as the sixteen-century, and in 1993, Casa de Cerca was renovated and reinstated as an art museum with its principal focus on contemporary art. In 2001, the municipality of Almada inaugurated botanical gardens as part of Casa de Cerca's art expositions. The gardens are divided into six distinct areas which all give homage to the painter. Besides the arts and rich history of this landmark, it also boasts over a lush green garden with breathtaking views of the Lisbon skyline, the river Tagus, and Lisbon's iconic bridge, "25 de Abril". The serenity and beauty of this place make it one of Lisbon's most well-kept secrets and is definitely worth seeing. The opening hours of Casa de Cerca is from 10Am to 6Pm, and sometimes they host events later at night. It is a great place to explore and recharge your batteries before heading off to our next experience.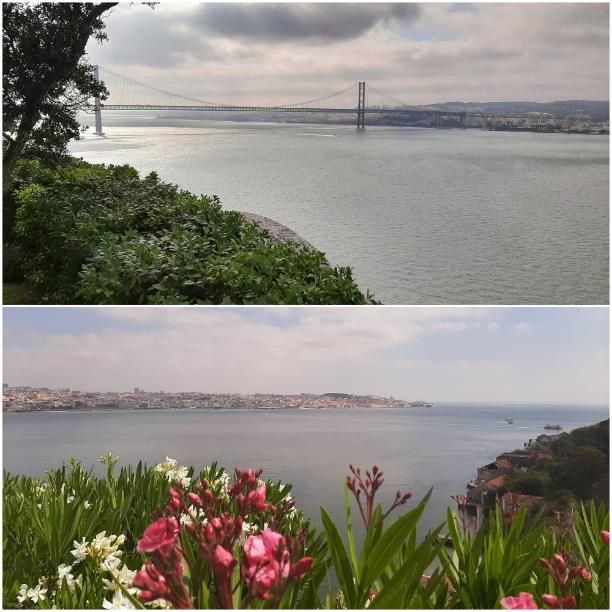 Walk along the Tagus river
60 points
After a 180 degree view over Lisbon and all its wonders, we head down to the river. To make the most of your challenge, I would suggest taking the elevator down to the river at Boca do Vento. It has a cost of one euro and takes you 50 m down to the famous River Garden. If you enjoy walking and don't feel like taking the elevator, you can make your way down a flight of stairs, or you can take the road that heads down to the river. After crossing the River garden, you will find a pier that, if you follow it, will take you straight back to the Cacilhas. It is not your ordinary, busy, touristic walkway, and you might find yourself alone with an astounding, uninterrupted view of Lisbon. There are a few restaurants along your way, which is great for refreshments.
The contras of Mercado da Romeira
70 points
After reaching Cacilhas, take the TST 101, 254 or 135 and get off at the bus stop next to the private hospital of Almada. Ask the bus driver to help you and indicate when you arrived, but usually, it is the 4 stop on these three routes. A short walk into the suburbs of Cova da Piadade will take you straight to the Mercado da Romeira. This open-air market is a great space to enjoy your evening with friends, family, or loved ones. The lush green grass and enclosed grounds make it perfect for even the young ones to play and have fun till the late hours of the night. On most days, the market has live music or some shows. It has a arts and craft shop and a few restaurants if you feel hungry. For those that came over to Almada by ferryboat, make sure to catch the last boat back to Lisbon at 1:20Am.
Tarquinio-Paraíso beach
90 points
Almada is well known for its pristine beaches and on this experience we are going to take you to a beach well known by locals but not yet fully explored by tourists. If you are planning on taking public transportation from Lisbon to Costa da Caparica, I highly suggest taking the ferryboat from Belem to Trafaria. After arriving in Trafaria, you have a few options. You can rent a scooter that will get you to Costa da Caparica in 40min, or you can wait for the bus (tst 129 ) which departs every 30min. Once in costa get off at the main square or better known as Mercado Municipal. As you get out of the bus, the main square of Costa da Caparica will be to your right. Here, you will find a local market to your left, and a commercial center for shopping to your right. Continuing on to the beach, you will pass through the well known, Rua do Pescadores. This is a heaven for who like shopping and dining. The street finishes almost on the most popular beach of Costa da Caparica, and if you don't feel like walking any further, you can stop right here and enjoy the beautiful beach of Tarquinio-Paraíso. Here, you can rent recline beach chairs and straw-umbrellas. If you feel a bit more adventurous, turn left, and take a walk all the way down the pier to Nova Praia. The beach is more or less a 1.4km walk and is less crowded, with a long sandy beach that literally stretches for kilometers. It is excellent for having leisure walks, or if you are a runner, a great workout.
Trafaria's sunset
70 points
After a great day spent on the beaches of Costa da Caparica, we head back to Trafaria. This hidden treasure is a fisherman village and very well known for its phenomenal restaurants and marvelous fresh fish dishes. People come from far and wide to dine at some of Trafarias restaurants. The main reason for this being the fresh fish. Here, the local fishermen catch the fish and sell it directly to the restaurants. So, in most of the restaurants, it is literally out of the ocean and onto your plate. Make sure to be on the pier to see the sunset over Lisbon and the Tagus river. The last ferryboat leaves to Lisbon at 21:30. So this gives you enough time to marvel at of the most amazing sunsets to see and capture. For a few minutes, just before the night takes over, the Lisbon skyline and Tagus river get coated with a beautiful, fiery lining that makes you feel as if you just stepped into an oil painting.