Bar hopping in Paris
4-7 HOURS
290 total points
It's fun to think that water draws the line between the two bar-civilizations of Paris. To the right of the Seine river—Rive Droite, the conservative and sophisticated drink wisely. On the left bank — Rive Gauche, artists, intellectuals and students drink to unleash the crazy. Well, this distinction might not hold much water (wine?) anymore, but one can't argue with the fact that being left-of-centre is more fun! The Rive Gauche has multiple neighbourhoods hosting some of the best bars in Paris, and this challenge is going to help explore them. As the night progresses and treading a straight line becomes an impossible feat, the mighty transport system of Paris will be your wingman! But if you feel invincible, fret not, all these places are located at a walkable distance from each other. You'll find different ambiences as per the hour of the day, so we suggest you start around 5 pm, but the last call is yours, pun intended!
Café and "passants" at Saint-Germain-des-Prés
40 points
Well, since you're all dressed up and ready to go, let's start with the fanciest neighbourhood in Paris - Saint-Germain-des-Prés! Located in the 6th arrondissement of Paris, the quarter presents two advantages that will help our mission of the day. Firstly, it hosts some of the most renowned cultural icons in the city, including Les Deux Magots, Café de Flore, le Procope, and the Brasserie Lipp. Secondly, with the metre square selling at 15 000 euros as an average, this is where the crème-de-la-crème resides. How is it relevant? If you enjoy people-watching, it would give you a glimpse into the life of the elite in Paris. It's also where a lot of young professionals in Paris hang out. Besides the amazing crowd, this neighbourhood has great terraces where you can grab a pint and watch people going about their day in the beautiful streets of Paris. For instance, Rue Princesse and Rue des Canettes are good bar streets to get in with the 'in-crowd. But if you think you've seen enough, it's time to hop to your next stop.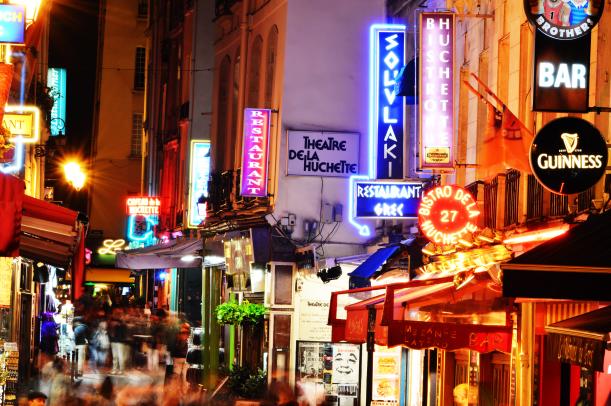 Pubs and live music at Saint-Michel
30 points
Next stop – Place Saint Michel. Look towards the Seine river. On your left, pubs, on your right, pubs, behind you, well, a fountain. Don't jump into it yet. The sculpture is of angel Saint Michael, along with two dragons and figures of the four classical cardinal virtues. Don't let the angel judge you, we did not come to Saint-Michel to play virtuous. There are pubs spread everywhere around this area, especially at 'The Latin Quarter', pick the one that calls out to you and start chugging. Go by the ear, there is always a band playing in one of these establishments. Get yourself a beer. If you are not a fan of the bitter drink, you'll find ample of other choices on the menu, along with French favourites such as Monaco and Pastis! You must be thinking, where are the wines? The next destination will be the answer to that question.
Wine and philosophy on the Place de la Contrescarpe
60 points
Do you know Jean-Paul Sartre and Simone de Beauvoir? Well, when those two French philosophers (and lovers) were not networking at Saint-Germain-des-Prés to promote the existentialist movement, they were actually existing over a glass of wine on the Place de la Contrescarpe. Existing and thinking. The Place de la Contrescarpe is the ideal spot to talk philosophy over a Pinot or two. Located near the prestigious and old university of la Sorbonne, you'll find students and professors alike having a serious chat in between two sips. If you happen to be hungry, walk along the adjacent Rue Mouffetard and treat yourself with a yummy salty crepe, which made the street famous! When ready, let's move on to your final destination!
More drinks and dance at la Butte-aux-Cailles
60 points
La Butte-aux-Cailles is one of the hidden gems of Paris. Located in the 13th arrondissement, it can deter the tourist craving for Haussmanian buildings and paved streets. But the quarter does have its own history. In the early 16th century, the whole hill used to be a vineyard that belonged to a certain Mr Caille, the guy that gave his name to the area. It then became an important place for the production of tannery and tissues. It's a bit of a walk from your last stop, but once here, you'll thank us! The Rue de la Butte-aux-Cailles mostly attracts a young population in its many small bars and restaurants. Grab a drink at one of these establishments and let yourself get dragged along onto the dance floor by the trendy and festive crowd. When it's 5 am and all the bars are closed, don't forget to look at all the street art, and if you feel like carving your memories of the night, feel free to grab a corner and get clicked along side these masterpieces.