Street art in Paris
1-2 DAYS
790 total points
What is Street Art? That's a good question and I thank you for asking it. The answer is tricky because it's all about personal taste and education. I dare say that a work of art serves two purposes. The first is to allow the artist to express a feeling or an idea through creation. The second is to inspire, entertain and make the viewer think. This is exactly what this challenge is all about: having fun, being surprised and enthusiastic. Of course, I could tell you that there are as many works of art in Paris as there are streets, and even more, but I want to make things easier for you. Basically, the best spots to discover "Parisian" street art are concentrated in the eastern part of the city and more precisely on the metro lines 2, 4 and 5, i.e. those serving the working class districts. Have a good trip!
Quai de la Loire
40 points
Let's start with the heart of street art in Paris, the northeast of Paris, near the Canal de l'Ourcq. It is a district that has experienced great development in recent years. Many investments have been made to change its image in the recent years. Many roads, buildings and monuments were constructed, such as the major music complex called La Philharmonie (see also "Castles" challenge). But what strikes me most in the area is of course its concentration of street art works, particularly long the Quai de la Loire. The area is a paradise for artists and lovers of alternative art: there are bars, space, abandoned buildings and dark streets, everything you need to express your creative genius.
Rue Henri Noguères
50 points
I have to give a special mention to one street called rue Henri Nogueres. It is entirely dedicated to graffitis and no one will stop you from drawing yourself something. Art and the street belong to everyone, don't they?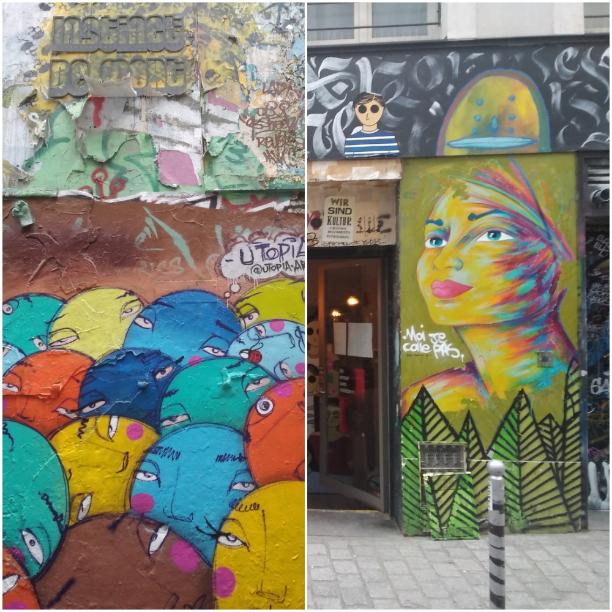 Rue Denoyez
50 points
Let's now pursue our journey by visiting one of the last working class districts of Paris, Belleville. The district is kind of poor and the population is extremely mixed in terms of income, ethnicity and age. I guess this combination is the main source of inspiration of Belleville artists such as Kraken, Hobz, ALEX or Nemo. Your best address: Rue Denoyez.
Rue des Cascades
50 points
Remember, art is everywhere. But the particularity of street art in poor districts is that the art works are often giant and put on large walls. That is what you will see on rue des Ménilmontant and rue des Cascades. So look upwards, but be careful no to crash on a pole !
Rue Oberkampf
60 points
It's time to move westward towards the very hype Saint-Martin canal. The district of République used to be one of the poorest districts of Paris and the soup kitchen was served on the Place de la République until ten years ago, before urban planning kicked the poor out to attract the target audience of street art, hipsters. If you are or want to meet big bearded guys, I suggest two places. The first is near Oberkampf metro station. Head south of ''Repu'' towards Boulevard Voltaire.
Rue Jean Poulmarch
60 points
After this short (but not dry I am pretty sure) visit, go to the second place. To do so, you have to go up to the Canal Saint-Martin but you keep walking on the left bank long the Quai de Valmy. Final destination is rue Jean Poulmarch.
Rue Legouvé
60 points
Afterwards, if you do not feel like having a short break in Jardin Villemin, head for rue Lucien Sampaix and have a look at rue Legouvé.
Rue Lucien Sampaix
50 points
Keep strolling on rue Lucien Sampaix. You will find a very cool shop that sells lots of stuff specialized in street art such as building blocks with unique drawings by the famous artist Miss. Tic!
Passage du marché
50 points
You obviously got the idea, you are reaching the third area, Château d'eau. The atmosphere is here different. No more hipsters wearinig wool caps, eating glutenfree cakes and riding bicycles. Here you are in the African quarter : dreadlocks, golden belts and small businesses are everywhere in the street. Take the road towards Gare du Nord but don't go too far! Your destination is Passage du marché. Personally, it's my favorite street art street, but it is just a matter of taste.
Boulevard de Strasbourg
60 points
Here too, art is everywhere. As in Belleville, the presence of minorities results in the putting big mural drawings in everywhere. This comes as no surprise: real estate speculation is usually less developed in poor neighbourhoods and as a result artists can afford themselves using unbuilt lands. I feel like this neighborhood has given you the edge. So why not stay here and eat a Caribbean ''bokit' or a flaming plantain banana? Otherwise, the famous Passage Brady (see "Secret passages of Paris" challenge) has lots of real Indian restaurants to offer. But before that, have a last ride with the metro. You will not regret it.
Sport Playground of Rue Duperré
60 points
I suggest we play some basketball. So direction Pigalle and the Duperré sports playground. Afterwards, in case you do not want to go back to Château d'eau, you may visit another type of street art in Abbesses, the "I Love You Wall". But this is another story (see "Romantic" challenge)! That's all folks ! I hope you liked it. But nothing is over. Your urban exploration has only just begun because there are countless places to visit. You can try the project in the 13 arrondissement called ''Boulevard Paris 13'' (sort of open air museum) The city of Paris encourages walls of expression everywhere because it has understood that this art characterized by ephemerality has its place in the modern city. Artists have become cult such as Basquiat or Keith Haring or more recently Banksy and exhibitions are organized everywhere. See Fluctuart, the ''floating'' street art museum installed near the chic district of Invalides. Oh la la !